How to Sell Your Workout Videos Online (and Make Over $7K/Month)
It's 2020, and this is the best time to start using video content to grow your fitness brand and make more money.
Today, personal trainers and fitness experts are leveraging YouTube, Facebook, Instagram, and other social media platforms to attract new clients and grow their PT business.
Take ShellShockFitness. Shellie wanted to grow her fitness business and help as many people as possible to reach their fitness goals.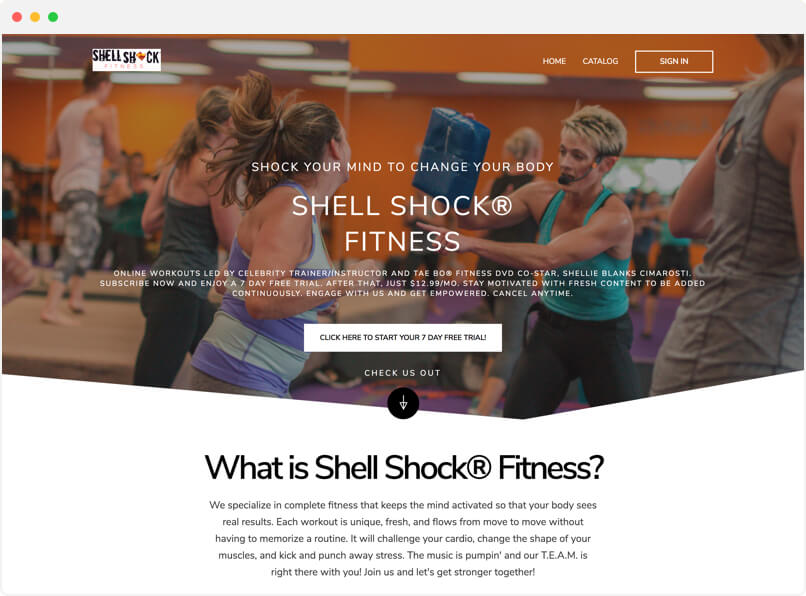 Shellie leveraged Uscreen, an all-in-one video monetization platform to build and launch an online fitness membership site, where she could share her workout videos with her followers so they could follow them at home or in the gym.
So, if you want to grow your personal training and fitness business, keep reading. In this blog post, I'm sharing the four steps you need to take to start selling your workout videos online:
How To Sell Your Workout Videos In 4 Easy Steps
There are four easy steps you need to follow to monetize your workout videos:
Set Your Financial Goals
Plan Your Video Content
Build Your Membership Site
Create a Marketing Plan
Let's go over each of these in-depth to start selling your fitness programs online.
1. Set Your Financial Goals
The very first step is to understand exactly how much you're going to need to make to hit your financial goals so you can reverse engineer the next steps. This also where you're going to pick a video monetization model that works best for your membership site.
There are two main video monetization models:
Transactional (TVOD): Users pay you a one-time fee for your videos
Subscription (SVOD): Users pay a monthly recurring fee for access to your content.
Top fitness instructors selling videos on Uscreen are charging between $9.99 and $14.99 a month up to $30 a month. On average, they have around 343 monthly subscribers and earns an average of $7,503 per month.
Check out this video, to learn more about how to price your content:
2. Plan Your Video Content
With your monetization model in place, next, you need to think about the program you're going to offer.
For example, if you were going to teach people about lifting weights, you may want to do a section on form, another on diet and so on.
Writing an outline or putting together a mind map of the videos that you're going to need and even thinking through what downloadables you're going to offer will keep you on track when you're putting it all together.
This will also help you make sure you're covering everything you feel you need to cover to share the knowledge you have and to take people through the process.
If you're new to video content creation, here's how you can get started:
3. Build Your Membership Site
With your content ready, you'll want to find a place to host and sell your videos to your customers.
I know what you're thinking, but building a membership website today is far from a technical challenge it was a few years ago. The easy way to do this is to find a VOD solution, which stands for video-on-demand, like Uscreen and Vimeo OTT, where all you have to do is upload your videos and write titles and the rest is done for you.
The great thing about using a VOD platform is they offer all the features and functionalities you need to give your clients a world-class experience. However, the best part is, you can also easily launch your own OTT branded apps without writing one line of code.
Your customers can watch your videos on, mobile phones, AppleTV, FireTV, Roku, and Android TV.
Having your own OTT apps also elevates the experience clients have of your brand. It's more personalized and accessible.
4. Promote, Promote, Promote!
With your membership sites being launched, next comes marketing.
You're going to have to get your videos in front of people if you plan to sell them and there are many ways you achieve this.
For example, Naturally Sassy monetizes her workout videos by spreading awareness all over her Instagram with her following.
Tim Milgram uses his YouTube presence to send users to learn how to do choreography through his paid course.
You can leverage all your main social assets, including your email list to let your current fans know you have paid content available.
Wrapping This up
Fitness is a high-growth industry and you can make more money in fitness in 2020. Getting started is easier than ever. Identify your niche, produce quality videos, build your membership site and promote your content to reach your audience.
You can sell your workout videos in four steps:
Write down how much you want to make and choose a business model
Plan out your content for your course
Build and launch your site
Promote your content to reach the people you want to help
I hope that by now you have a clear idea about how you can start selling your workout videos online.
Author: PJ Taei
Bio:
PJ is the founder and president of Uscreen, an all-in-one video monetization and OTT platform that empowers video entrepreneurs and creators to monetize their content and build thriving businesses around their videos.